Coliving for Couples, Can it Work?
posted on : 9:36 am, Wed, 27 May 20
Living in a coliving space comes with many great benefits, including: more affordable living options, access to common facilities, easy way to move to a new city, and arguably most importantly is access to the coliving community.
But is coliving an option couples should consider? Keep reading to find out.
Benefits of Coliving for a Couple
Whether you are trying out a new neighborhood, moving to a new city, traveling, or working remotely, there are a variety of reasons why coliving can be a great option for couples. Here are some benefits of coliving: 
Flexible leases:  Many coliving spaces have flexible leases, meaning you don't have to commit to a long stay. There's the option to extend your stay month by month after the minimum lease period is up, so you and your partner can choose to stay or leave as you please. This is great for couples who aren't ready to settle down in one place. For example, if you work remotely, you can try moving to different cities until you figure out where you want to stay more permanently.Socialising: Coliving provides a great opportunity to expand your social circle, or gain quick access to a new friendship group in a new city. Many providers also organise community events, which gives you another chance to socialise. While of course it's important for couples to spend time together, it is also important to spend time individually with others. Coliving is a great way to gain access to a like minded community, where you can find people to do activities with, go on adventures with, cook with, and just spend time with, other than your partner. You may also meet other couples in the coliving community you can bond with. 
Fully-furnished accommodation: Coliving spaces usually come fully furnished, so all the hard work is already done for you. This is a significant benefit for couples who aren't ready to make expensive home-related expenses, or who don't want to lug around furniture every time they move. Not only can moving into a furnished coliving accommodation help save money, but it can also save you and your partner a lot of time. Coliving allows you to move into fully furnished, serviced and managed accommodation, so all you have to do is show up and start living. What's not to love! 
Economic benefit: On average, choosing to co-live in one of the world's bustling, metropolitan cities is a more economical option. Coliving rental amounts often include housekeeping, facilities use, wifi, and capped amenities, which typically makes it a cheaper option overall. Not only does coliving have the potential to save you money in rental payments, but it can also help you save on furniture, appliances, upkeep/maintenance, and cleaning fees. Finances can prove to be a stressor in a relationship, so choosing a more financially feasible option for you may help to relieve this worry.
How to Integrate Into the Community with Your Partner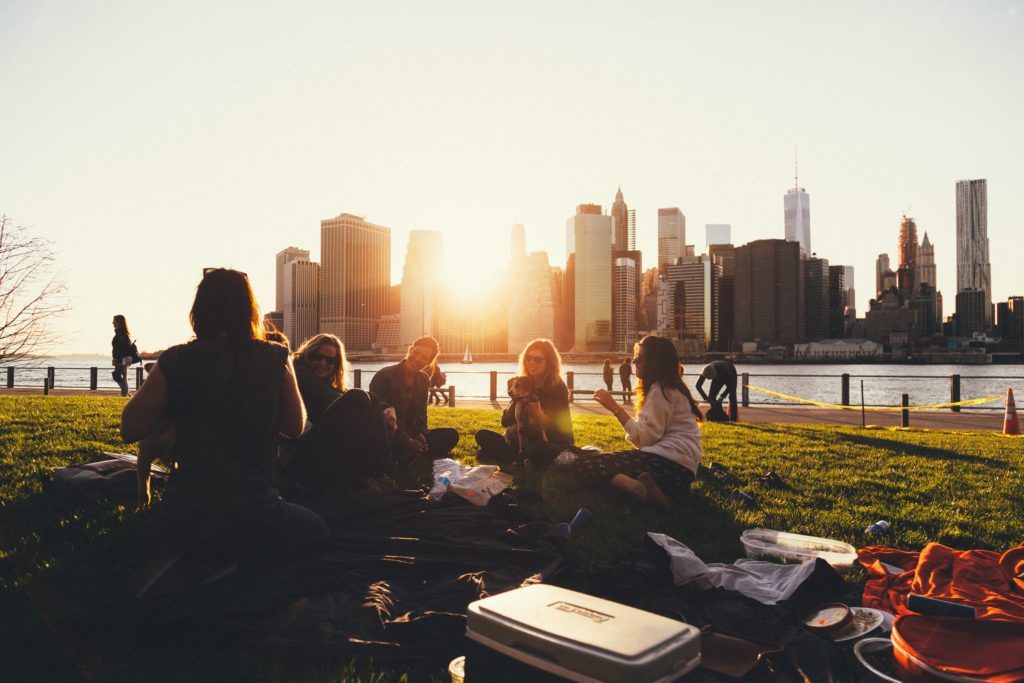 As tempting as it is, don't turn down socialising with the group to stay at home and watch a movie with your partner every weekend! As a couple, it's important to take time to spend time with other friends in your coliving community other than just your partner. Anyone who has been in a relationship knows how easy it is to lose touch with the wider community by always favouring the company of your partner. It's important to remember that just because your partner is available to spend time with you, that doesn't mean you should ignore other opportunities to socialise. Here are some integral things to keep in mind when integrating into a new community: 
Make an effort: By moving into a coliving environment, you have the option to adopt a more social lifestyle. So, when you move in, start off on the right foot by making an effort to get to knowother people in your accommodation. Naturally, the more people that participate in social activities, the more your community will thrive. If you know there is a community event coming up that sounds fun, commit to attending, with or without your partner. After you get to know a few people, take the initiative to organise an outing or activity with your new found friends.  When it comes to coliving, the general consensus is – the more you give, the more you get.
Branch out: After moving into your new, vibrant coliving environment, don't forget to still indulge your individual interests. For example, maybe you love fitness, but your partner is more into video games. In that case, branch out and organise with other members of the community to do a gym session. This may create a healthy routine for you, and also allows you to socialise on your own and build friendships. Spending time individually in the community is just as important as spending time together within the community. By getting to know other people in the coliving community both as individuals and as a couple, you are opening yourselves up to the potential of growing lifetime friendships and expanding your network.
How to Choose the Right Coliving Space For You and Your Partner
Choosing to live in a coliving property does not necessarily mean you have to compromise on privacy. As a couple, one of the most important aspects of choosing the right coliving accommodation for you is choosing the right room. Make sure that you select a private room, that allows for 2 people. This allows you to socialise with your flatmates all you want, while still having your intimate, private place to retreat to when you like. Another tip is to consider paying extra for the master bedroom, since that often has its own private bathroom, which may be something you are interested in as a couple. 
Thinking that coliving may be a good option for you and your partner? Let Relogo help you in your search for the right coliving space. There are a lot of moving parts to consider when looking for the best coliving space for you – number of roommates, location, amenities, coworking spaces, and property style, among other elements. Our team helps you figure out what kind of arrangement would best suit you and your partner, and we do our best to help you find accommodation that meets your criteria. 
As relocation experts, Relogo is here to take the stress off your shoulders. Relogo is well connected to a variety of coliving providers in Singapore, and can work with your preferences to provide great options for you to choose from. Rather than being limited by the style of one provider, why not view a range of options so you can decide what suits you? 
Want more information on coliving? Check out our other articles on coliving: 
Coliving: A Tale As Old As Time 
Coliving and COVID-19, is it Possible? 
Coliving Etiquette: A Guide to Being a Good Neighbour
How to: Be Productive in Coliving Spaces 
Aside from short term accommodation search, Relogo can also assist with tailored home search services, moving and storage solutions, and school search, among other complimentary a-la-carte relocation services. If you are looking for more comprehensive help, our team also provides concierge service packages. We are happy to lend our expertise to any enquiries, so don't hesitate to contact us now.